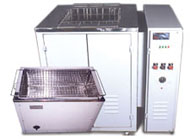 Large / Industrial Models Reliable, Rugged and cost effective.

The ability to apply ultrasonic cleaning to large, irregular parts or high volumes of casketed parts is now achievable.

Precise cleaning results can be efficiently, economically and repeatably achieved in rapid, high throughput production environments.

Custom-engineered sizes can also be delivered at short lead times. The tanks are equipped with heaters (in-wall, immersion or steam coil) and ultrasonics in either 25 or 40 kHz. Options include timers, filtration, pump to drain, exhaust systems and custom parts fixtures.