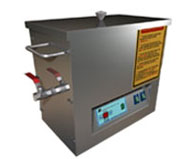 Ultrasonicators are widely used in Pharmaceuticals, R & Labs, Solvent Degassing, Dilution and Dissolution of Tablets and Formulations, Emulsification, Cleaning of Dyes, Punches, Glasswares and much more..

We have developed a very special instrument for your applications to comply every need of your requirement. We have introduced for the first time in India a special Auto Degassing Cycle and a high frequency sonication for low noise level to meet your laboratory requirement. Auto degassing cycle is the most effective way of degassing liquids prior to HPLC by Ultrasonicator.

At present our list of customers includes Ciba, Glaxo,Cipla,Lupin, Aurobindo Pharma Ltd., Degussa, Glenmark, IICT to name the few.